Chobham Academy launch infographic at Here East
Chobham Academy launch infographic at Here East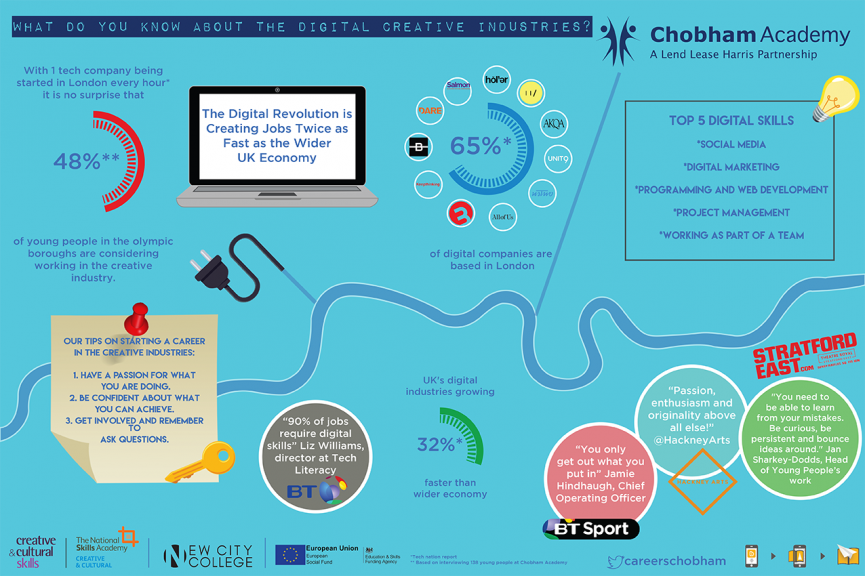 Students at Chobham Academy, who have been working with Co-relate and Creative & Cultural Skills, have launched their infographic on the creative industries in East London.
Representatives from BT Sport, London Legacy Corporation, University of East London, New City College and Mediorite, alongside staff from Chobham Academy attended the event on Thursday 28 October at Here East.
The infographic shows the students' research findings that 48% of young people at their school are interested in working in the creative industries and that one tech company is started in London every hour, meaning lots of exciting creative employment opportunities in the capital.
So what advice does the infographic share with those wanting to work in the creative industries?
have a passion for what you are doing
be confident about what you can achieve
get involved and remember to ask questions
Through speaking directly with key local employers like BT Sport, Theatre Royal Stratford East and Meno TV, the young people gathered anecdotal advice for navigating the creative careers landscape in their area.
They took particular inspiration from BT Sport's Inspiring Young People Event. Student Azaan Kamran explained that the event highlighted the importance of digital skills, adding: "At the BT Sport event we had the opportunity to interview [Chief Operating Officer at BT Sport] Jamie Hindhaugh to gain his perspective on the creative industries. The thing that he said that really stood out was 'you only get out what you put in'. This was really inspiring since it let us know that to reach your goal you just have to work hard to achieve it."
Reflecting on the presentation of the infographic Jasel Nandha, Community and Partnerships Manager at Here East, said: "It's been a pleasure to host the Creative & Cultural Skills pilot project, and launch of the Chobham Academy infographic programme. The students worked hard on their presentations and it was great to hear from a young person's perspective where the skills gaps are in East London's vibrant creative sector. We hope that that this pilot is something that could be of interest to other organisations at Here East."
Guest speaker Mike Norrish, Digital Director at BT Sport said: "The presentation was really relevant to BT Sport, as there was no BT Sport a few years ago and that's an example of how quickly businesses change. We were a telephone company that had to adapt to the internet. That's why BT went into TV and content."
Discussing the importance of digital skills, he added: "We've got people from all sorts of skillsets from geeky engineers to make-up people to former footballers, social media people and TV production and they all need some sort of digital skills. I'm very proud of how my team adapts to using new tools, for example Slack, to empower our business and how we work as a team. It's not a 9-5 culture anymore. It's a 24/7 culture where we've all got a computer in our pockets all the time to help us be more creative, more nimble, more agile."
When asked, "What do you think are the best and worst aspects of working in the creative industries?" Chobham Academy student Jabed Mohammed replied: "Well the best thing is that robots won't take our jobs because they can't think creatively like we do. The worst thing is a lot of jobs are self-employed and it might take a while to establish yourself and build your reputation."
Find out more about the programme by visiting the Creative Digital Careers website.