Chobham Academy to launch infographic at Here East
Chobham Academy to launch infographic at Here East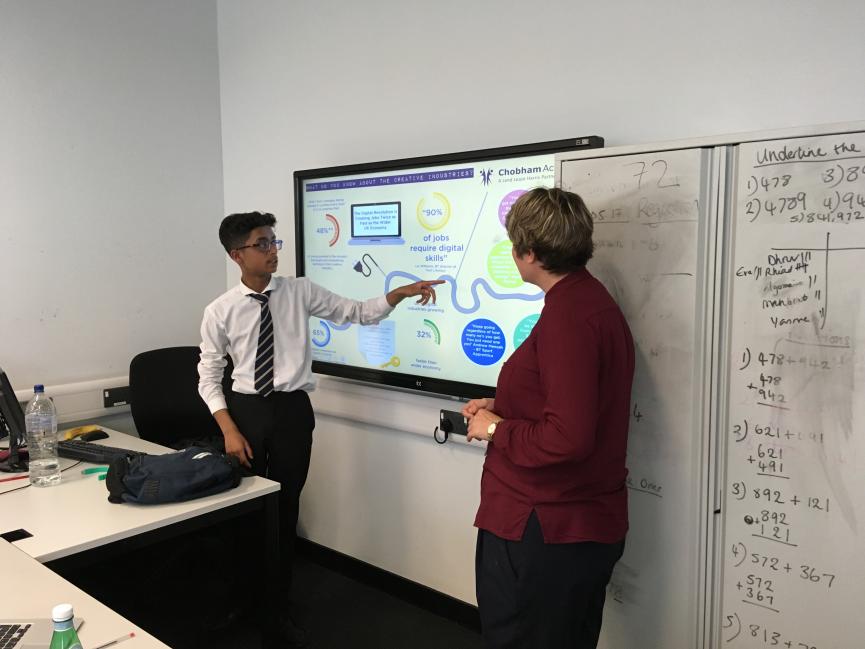 Year 10 students at Chobham Academy who have been working with Co-relate and Creative and Cultural Skills on a project to find out about the creative industries in their area will launch the results at Here East on 28 September.
The young people have visited BT Sport, worked with graphic design students from University of East London and interviewed a range of creative professionals to discover where the skills gaps are in East London's vibrant creative sector.
Not only did they find some key labour market intelligence, they built their creative skills in researching, interviewing, team work, graphic design, social media and presenting.
They will share their findings with the launch of their infographic and augmented reality video at Here East in Olympic Park. Industry representatives will have the chance to discuss the project with the young people and network with one another.
Join us for the launch of their infographic on Thursday 28 September at 5pm to meet these impressive young people, see their work and network with the creatives and organisations who helped them along the way.
Here East
Press Centre
Queen Elizabeth Olympic Park
London
E20 3BS
If you would like to attend, please email [email protected] with your name and organisation by Tuesday 26 September. 
Read more about the project on the Creative Digital Careers website.