The Health Foundation
Supporting The Health Foundation with interviewing, writing and editing services to build their Q community of health improvement professionals.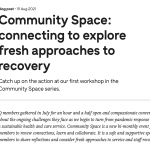 Connecting to explore fresh approaches to recovery
Are systems conveners the leaders the NHS needs now more than ever?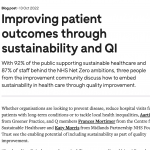 Improving patient outcomes through sustainability and QI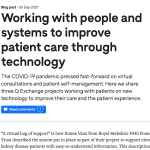 Working with people and systems to improve patient care through technology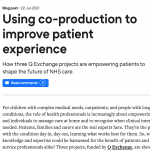 Using co-production to improve patient experience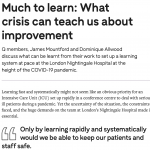 What crisis can teach us about improvement
The Health Foundation speaks to a range of audiences within and outside the NHS to achieve its aim of bringing about better health and care for people in the UK.
We're currently supporting them with content for health improvement professionals across health and social care at q.health.org.uk. 
We provide ghostwriting and editing services to keep content fresh and also author feature blogs for the community. See Jess' profile and Tanya's profile to read their content.
"The focus you've taken, looking at the human side of change...chimes really well with wider messaging and research in the Health Foundation. So that's perfect!" - Faye Goldman, Head of Communications, Q
They first approached us to edit a series of scripts for short videos for internal communications with staff. Covering all aspects of GDPR, the videos needed to be accurate, helpful and bite-sized.
"Exactly what we needed." - Guy Silk, Head of Operations
During a very busy time for the NHS, we supported clinicians to create a blog about learning systems from the London Nightingale Hospital that will lead to overall improvements in clinical care. Read the blog here.