What 4IR is all about and why everyone needs to know
What 4IR is all about and why everyone needs to know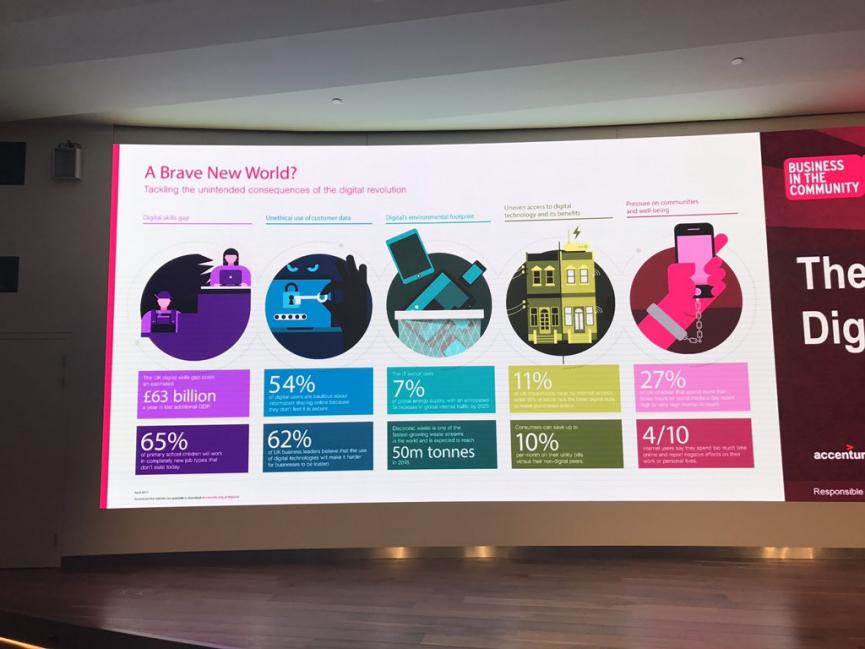 If you're in primary school today, there's a 65% chance that you will end up doing a job that does not yet exist.* The reason for this is the Fourth Industrial Revolution, also known (especially on social media) as 4IR. It's receiving unprecedented attention in the UK right now, as well as across the globe - here's why.
Technologies that have been bubbling away for decades and incrementally changing the way we live and work are now developing at speed, with fundamental consequences for our working and personal lives.
As Business in the Community chair and founder of 10x Future Technologies Anthony Jenkins told business leaders at The Future of Digital is Human launch event this week, "We are facing a wave of technological change that is unprecedented, with multiple technologies stacking on top of eachother."
Agility is the most important thing in this new world, he said, but most businesses are not equipped for agility. Nor, it seems, are any of the systems we currently rely on from education and health to tax and welfare.
If the event had a single message it was this: the future could be utopian or dystopian. It is up to all of us - business and society - to influence the outcome.
So, what is 4IR again?
The fourth industrial revolution, or 4IR, is characterised by "recent and anticipated breakthroughs in fields such as artificial intelligence (AI); automated robotics and advanced manufacturing; pervasive digital networking (the "Internet of Things"); autonomous vehicles (such as "driverless cars"); 3D printing and additive manufacturing; "Big Data" analytics; nanotechnology; biotechnology; materials science; energy storage; and quantum computing. These advances will disrupt almost every industry in every country, and pose profound economic, political, and societal challenges to countries that are unprepared or unresponsive to a rapidly changing world."
This is the explanation given by the UK's All Party Parliamentary Group (APPG) on the subject. The video below, from Innovate UK, looks (albeit with rose-tinted glasses) at how future cities might operate, touching on what 4IR might mean in practice.
The fourth industrial revolution is essentially about connectivity - joining digital and physical networks together in real time - and automation.
What sets it apart from previous industrial revolutions, in social terms at least, is that the impact of these were only really recognised in hindsight. We didn't have the global and social connectedness that we do today and this presents what Justin Keeble, Managing Director of Accenture Strategy, described as a once-in-a-lifetime opportunity to ensure that the 4th industrial revolution is inclusive.
In case you're curious, the previous industrial revolutions have been loosely described as:
late 18th Century - steam and water powered
late 19th Century - electric and mechanical
late 20th Century - computers and digital circuitry
This EEF blog has a handy diagram.
Can we really create an inclusive revolution?
Revolutions tend to create casualties so some argue it's a technological evolution that we need.
Martha Lane Fox, founder of Doteveryone and co-founder of lastminute.com wrote in the Guardian last week that while the impact of the digital revolution is widely acknowledged, "no society in the world has yet stood up to demand greater control over its digital destiny. No country has committed itself to building technology as fair as it is convenient." With Brexit looming and the need to find a viable future for ourselves in a changing world, she challenged the UK to be that country.
But we have some way to go. An estimated 15 million jobs are at risk of automation by 2035, according to statistics published by BITC in its A Brave New World report launched at the event. An international round-up, published on diginomica.com on International Women's Day put the number of women in tech anywhere between 11% and 20% of the total workforce, which doesn't bode well for women in an increasingly tech driven future.
Speaking at the Future of Digital is Human event, General Secretary of the Trades Union Congress Frances O'Grady said: "There is an issue about who is in the room when we're designing digital...Collectively we need to take a step back and make sure there's a new social consensus that this industrial revolution is for everyone."
Who's doing stuff about it?
There are a range of organisations acting on the challenges of the fourth industrial revolution in the UK and globally.
The World Economic Forum featured 4IR on its agenda in January 2016. Klaus Schwab, founder and executive chairman, wrote a great introductory piece.
Tech UK describes itself as representing "the companies and technologies that are defining today the world that we will live in tomorrow." Visit Tech UK's website.
Business in the Community is working with businesses to ensure an inclusive digital revolution and has published four business priorities for addressing this.
Doteveryone is a charity funded by Martha Lane Fox that explores "how digital technology is changing society, build proofs of concept to show it could be better for all, and partner with other organisations to provoke and deliver mainstream change." See https://doteveryone.org.uk
Co-relate sees Tobias and I, in our own small way, working to help ensure marginalised people are better equipped with the skills and behaviours creative and digital roles will demand of them in the future. We're currently delivering a Creative Clusters project for young people with the Creative and Cultural Skills Council for New City College in Hackney and Tower Hamlets. We're also tweeting and blogging about 4IR and related issues with the aim to help other organisations understand it. Keep an eye on @corelateuk and this blog for more.
(* Statistic shown on the opening slide from Accenture and Business in the Community at the Future of Digital is Human event.)