We Read celebrates first anniversary at the Writers' Room
We Read celebrates first anniversary at the Writers' Room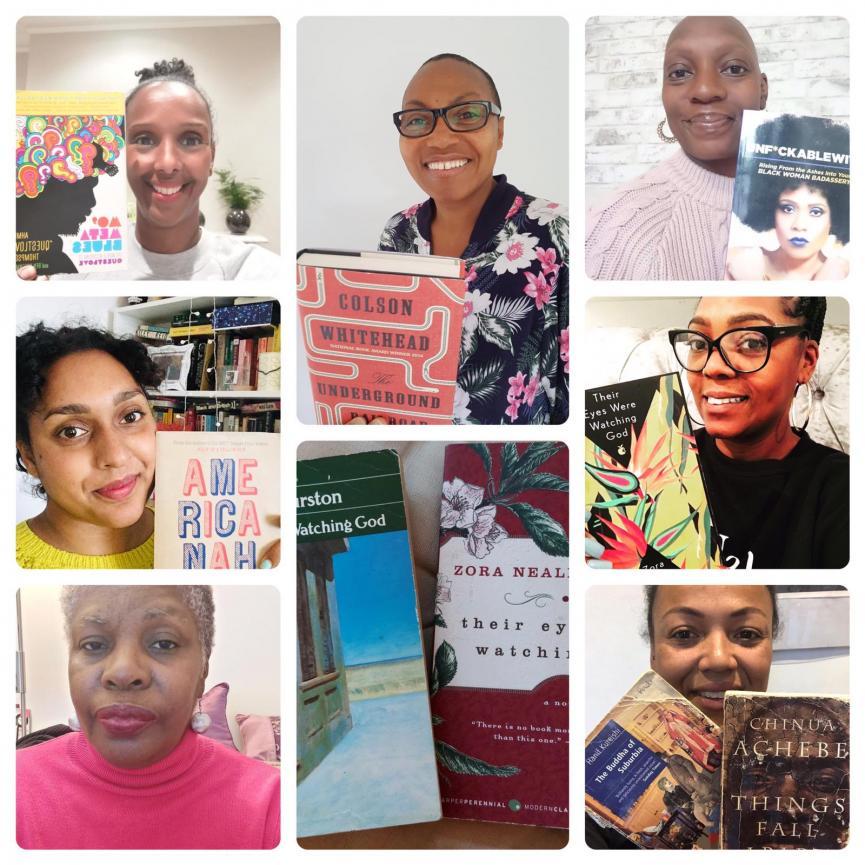 Last month, in between lockdowns, We Read Book Club celebrated its first anniversary in person and on Zoom with guest author Leke Apena, author of 'The Prophet Who Loved Her.
Founded by Thea Renee, the book club is a space for black and brown women to come together, read black and brown authors and talk about books and life. Thea started We Read back in 2019 with the idea of holding a regular social meet up with other women in the community, hosted in different people's homes. 
"When it gets to winter time it gets a bit dark, it gets a bit cold. We tend to see less of each other over that period of time so I thought a book club would be a nice way to get together, have a little drink, have something to eat, have a little laugh and also share some of our experiences of books that we've read," Thea said.
She also wanted to dispel the myth that a lot of black and brown women don't read. The book club has 15 to 20 members, everybody enjoys reading and books have been a way to open up discussions about topics they might not ordinarily discuss. For Thea, We Read is also a chance to put the spotlight on black and brown authors, build community and educate people about black and brown history.
"We've had some absolutely brilliant conversations come out of the books that we've read," she said. 
"One that really sticks out in my mind is after reading Don't Touch My Hair by Emma Dabiri. We had a really good conversation which made us realise that although we are all black/brown women we've all had such different experiences attached to our, sort of, hair journey. Some of us grew up in London, so it was different, some of us grew up here. Some of us are from dual heritage, so the stories were really interesting and enlightening and we learnt a lot in that session.
"So it's really all about getting it out there, reducing that stigma of the links between education and black and brown people that we sometimes come up against and really being able to talk openly and emotionally about some of the issues that are raised in these books that affect us all."
Thea emphasised that We Read was not exclusive at all and the social side was probably the most important for the group. She moved to Margate from London about three years ago and admits she felt slightly isolated at first so it was important to create a space where she felt comfortable having open conversations and celebrating writers of colour.
"I've always said I don't want it to be a book club where you feel bad if you haven't read a book, you know, I really am focused on keeping a social aspect to it because a lot of the time we don't have these little conversations, life's busy, we have children, we have jobs, we have partners, you know we have careers, we have studies, so it's nice that once every six weeks, regardless of whether you've read the book or not, we can all come together and have a chat and catch up."
When the first lockdown arrived, Thea moved the group to Zoom and this allowed people who hadn't always been able to attend in person to join the discussions. And when lockdown eased, The Margate Bookshop seemed like the right place to move the book club, allowing for up to six people to meet with the rest joining on Zoom. For their first anniversary they were joined online by Leke Apena, author of 'The Prophet Who Loved Her', to discuss all things writing and current climate. 
"It's been great being able to have that connection to the bookshop. I love the fact that we can order books that we'd like to read, we can come and have a coffee, it's in our local area, it's a beautiful place with lovely people so we're enjoying it."
We Read has about eight regular members who support with organising the group and they plan to invite guest authors to join them every six weeks and to open out author talks to the wider community. They've got ideas for a travelling library and spreading the We Read model to other towns along the coast. Thea's also hoping to start a We Read for teenagers in the area.
"My daughter's 13 and I would love her to sort of spearhead the teenage branch of We Read encouraging her peers to read books by black and brown authors or about black history or about brown history that plays an integral part in British history, so that's one of the things that I'm gearing to. I'm also wanting to set up a pop-up library of black and brown books by bookshops that do tour the country so I've got a few ideas in motion that I'm hoping to be able to afford some time to over the next coming few months. So that's kind of the plan."
You can find and connect with We Read on Instagram.
Plus, here's the Guardian's review of Don't Touch My Hair and even during lockdown you can order it online from The Margate Bookshop.