Volunteering Experiences at Autumn 2018 Margate Bookie
Volunteering Experiences at Autumn 2018 Margate Bookie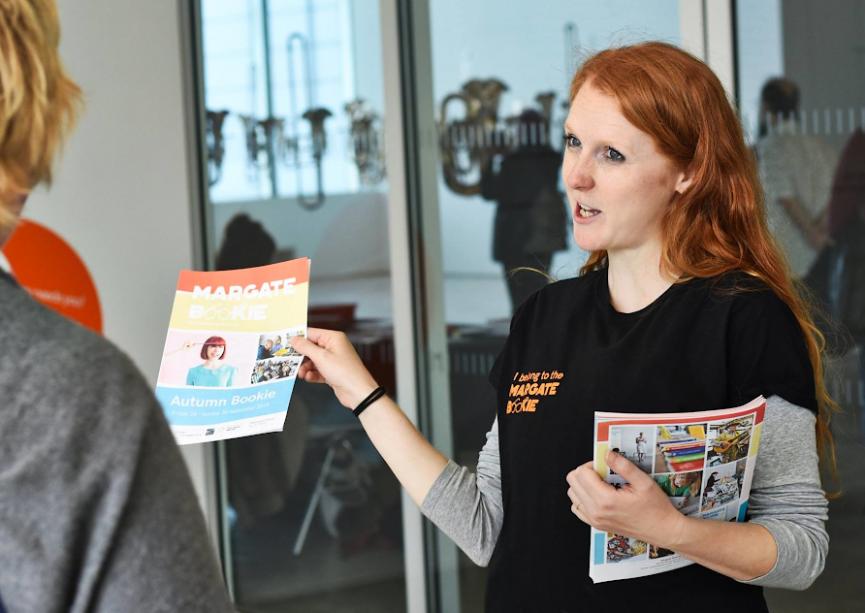 Co-relate teamed up once more with Margate Bookie for the Autumn 2018 Festival—what could be described as the most successful and friendliest lit yet!
The festival was a jam-packed three days of workshops, talks, and performances. What made the experience even more special was our team of enthusiastic and eager local volunteers. Co-relate always strives to make sure that each volunteer gets the most out their experience, fine tuning roles so that they are related to the future goals and aspirations of every individual. Of course volunteers also had free time to explore and participate themselves in between their shifts to really get the most out of chatting to experts and fellow writers and book lovers.
[the volunteers] were always smiling, thinking ahead, problem solving, and, above all, welcoming
We received so many compliments from authors, visitors and fellow crew about how brilliant our volunteers were. They said they were always smiling, thinking ahead, problem solving and, above all, welcoming, creating exactly the right atmosphere for everyone involved. A huge thank you once again for everyone's hard work!
Of course, volunteering at Margate Bookie does not only provide experience at events, but also gives the chance for individuals to find a platform for their own creative interests. Writers and poets were able to share their work in workshops as well as the ever-popular Bookie Slam, a friendly and energetic space for poets to perform their work and receive feedback. Co-relate also considered roles which were more behind the scenes but still vital to the running of a festival, from running social media feeds, as well as using graphic design skills to create posters and leaflets for public distribution.
For many volunteers, Margate Bookie is a chance to not only make friends, but also those vital networking connections—essential for those carving a career in these areas.
 I had never heard of the festival before and was thrilled to meet a group of enthusiastic, supportive, and super friendly people who shared my interests
We will be consulting with young, local volunteers and contributors in the near future to learn what they really want from a Margate Bookie to make the festival a useful and insightful investment of their time. Co-relate is looking forward to making next year's festival bigger and better than ever, creating with both young and local communities to make it a memorable experience for all.
For more information and the latest news on the festival, head to the Margate Bookie website
*Photography courtesy of Benjamin Film Photography