Social enterprise the second time around
Social enterprise the second time around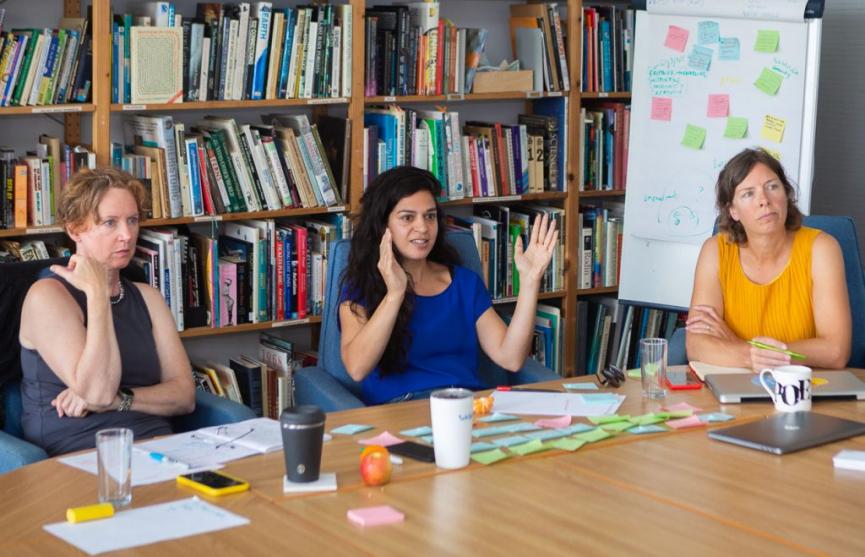 "I have a confession to make," I recently told audience members at the Social Enterprise Kent annual conference at Turner Contemporary in Margate, "this isn't my first social enterprise."
My first social enterprise was a social success and a financial failure. After seven years of enabling people facing severe barriers to work to move towards creative careers, in 2016 we were staring into the abyss of bankruptcy.
That's not to take away, at all, from the incredible social impact we made. Twelve years on, people I worked with still take the time to message me about the fundamental difference we made to their lives. If you're interested, you can read the Poached Creative 2016 impact report.
This blog isn't about the past though, it's about the future. What I wanted to share for Social Enterprise Day is that starting and running a social enterprise is still the best thing I've ever done. A fellow social entrepreneur described it as a do-it-yourself MBA. We were learning in real time, in real life, and doing good along the way. It was exhilarating.
I still work with Lucy Ferguson at Mediorite, with whom I shared my first office, first member of staff, first funding and first paying contract. When I think of social entrepreneurs I admire, Lucy is right up there for her vision, integrity and impact. So, this is about what I've learnt when it comes to creating a sustainable social enterprise. I'm proud to be taking this learning into Co-relate Communication CIC - my second social enterprise launched in Margate with business partner Tanya Royer in April 2021.
Seven things I learnt (the hard way)
1. You can't do it all (on your own)
You might be great at running projects, managing people, finance, finding new business, getting funding, building partnerships or have reached the top of your specialist field. No-one can do all these things so it makes sense to find other people to work with you and organisations to partner with so you can concentrate on doing what you do best.
Co-relate is working with Social Enterprise Kent for business support; a bookkeeper and accountancy firm for our finances; partners at Marine Studios for operational and creative support and brilliant freelancers, small businesses and fellow social enterprises for just about everything else.
2. Start with solid foundations
It takes a lot of time and effort to start a social enterprise and while there's a temptation to just get going, I'd recommend taking your time at the start. Look around and get an understanding of who else is in your space, what they're already doing and where you might fit as part of a wider social ecosystem. It also pays off to build up your income streams, get your governance and housekeeping in order and build support for your idea before you start to grow.
Co-relate was fortunate to start with a year-long contract from the Health Foundation's Q community to provide a financial foundation we could build on. We had also spent several years getting to know the creative sector in Margate so we could see where the gaps were before launching new projects.
3. Plan and partner to grow
It's easy to talk about collaboration and much harder to do it. Good collaboration takes time, relationship building and trust. Once you have those relationships in place you can go a lot further, faster together than you can on your own.
Co-relate has partnerships with HKD and Kent Poetry CIC on Marine Studios and Rise Up Clean Up on Plastic Free Thanet to help us fulfil our social mission to support the creative sector in Thanet and act on the climate crisis.
4. Know your niche and the needs it addresses
In communication we would say "know your audience" and the same is true for business. Social enterprises have two very distinct audiences (and often many more). Your customers, who are buying products or services from you, and your beneficiaries, who are part of the communities you're aiming to serve. Occasionally these cross over but often they're quite distinct.
Customers will have pain points and needs that you can address. Equally, beneficiaries will have a different set of needs. You need to be able to show that you have worked with them to understand and co-create solutions to these in order to access funding and show your social impact. Co-relate's customers are responsible businesses, charities and social enterprises with communications and co-creation needs.
Co-relate's beneficiaries are Thanet's creative community and the local coastal environment. There are many organisations doing incredible work on each of these so we see our role as supporting that work and filling in the gaps.
5. Build your track record
You and your team may have strong track records in individual areas of expertise but as a business you need to prove yourself with smaller contracts and funds before you can access larger ones. Plan to start small and make the most of the opportunities that are available to you as a start-up so you can build the evidence and capacity you need to scale. Co-relate is incredibly grateful to Sea-changers and Kent Community Foundation for small grants to get Plastic Free Thanet off the ground. As we grow our collaboration we'll be looking for larger grants to enable businesses to work together for greater environmental impact.
6. Listen, adapt and share
Social enterprises rely on their communities, their people and their clients to learn and develop as they go. This means starting with the people or organisations you're looking to support and finding out from them about their needs, shaping services around these. No-one is able to get all of it right first time and I've found that creating a culture of openness, admitting to mistakes and asking how we can improve goes a long way.
We're pleased to be able to draw on work we've done in partnership with Margate Bookie, insight from the Margate Creative Land Trust and formal and informal feedback from our community at Marine Studios to keep getting better at what we do.
7. Go at your own pace – it has to be sustainable for you too
Everyone's familiar with the flight analogy of putting your oxygen mask on before you help others. If you're working too many hours, wrestling with too great a social challenge, paying too little and demanding too much of yourself, you are not going to be a good manager, partner, family member, housemate or business prospect. I'm incredibly grateful to the brilliant team of colleagues, co-workers, partners, friends and clients we have here at Co-relate who support me and one another to find the right balance. Find out more about Co-relate and to talk about how we can partner or support your projects, please get in touch with me.