Responding to a live digital marketing brief
Responding to a live digital marketing brief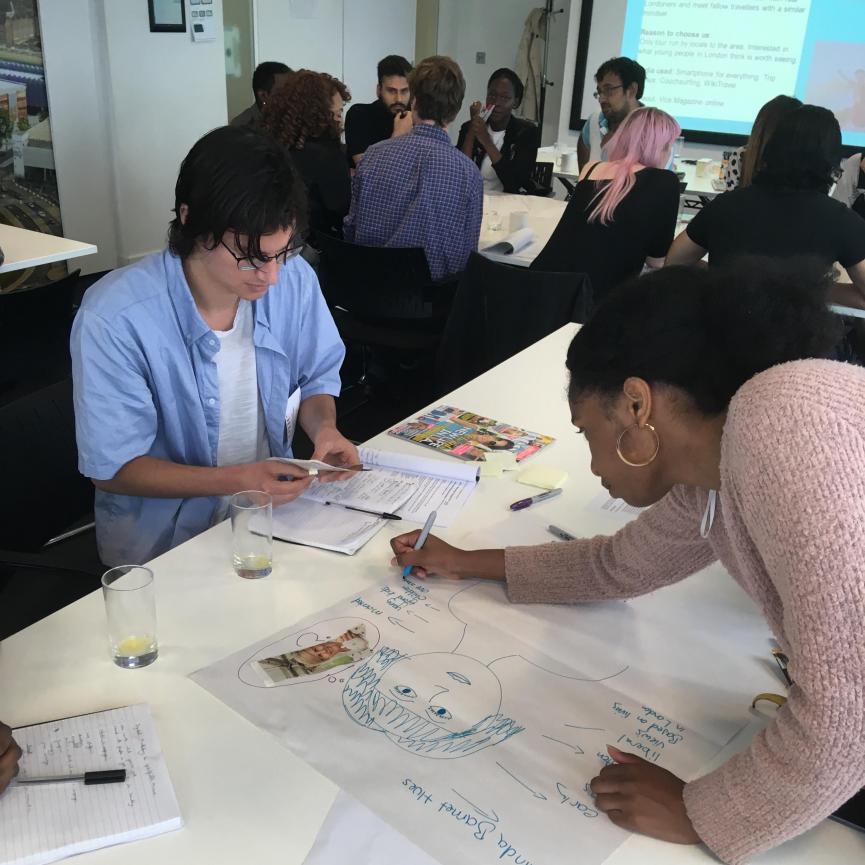 Spitalfields Music Festival tickets went on sale on Monday with the highly original Schumann Street performances as a key event for the well-respected annual festival. What most people engaging with the events on social media won't know is that a group of 25 young people from East London had a hand in developing some of the ideas for promoting them.
Over summer, Co-relate had the privilege of working with London Legacy Development Corporation and creative partners across East London to run a marketing workshop for young people taking part in their Creative Opportunities Programme.
The task was no walk in the (Olympic) park: create an imaginative social media campaign to promote Schumann Street as part of Spitalfields Music's wider festival campaign.
The group had just 1.5 days to come up with a digital marketing plan and some fleshed out ideas that Spitalfields Music could use within their budget and resources.
So how did we go about it?
The young people needed to quickly get to grips with what digital marketing entailed, what we mean by a campaign, understand the client, get to know their audiences and get their creative thinking hats on. We started with a session drawing on what they understood digital marketing to be and quickly moved on to look the different elements in campaigns using Bestival as an example.
We then introduced the live brief and the group had the chance to ask questions of the client, Damaris, to better get to know the organisation and the event.
After a quick look at social media for Walthamstow Arts Trail we moved straight into audiences - the group's audience insights would be crucial to devising an effective campaign.
All about audiences
Fortunately, like many arts and culture organisations, Spitalfields Music uses Audience Spectrum - a free audience segmentation tool for the cultural sector. We focused on the four biggest audience segments from last year's festival and, in groups, developed personas to represent each of them. These personas and our understanding of what drives them would guide us in our decisions in the hours to come.
Once we had the personas fleshed out we could start to work on the sorts of messages we thought would land well with them. 
The groups also looked at the visual language and styles that would appeal most to their personas.
Planning, planning, planning
Firmly of the belief that a good campaign is all about the planning, we then set about planning which messages would go to which audiences through which channels - and at what point in the campaign.
The next day we knew we had to divide and conquer in order to present our pitch to Spitalfields Music by midday. 
We split into four groups to look at: copywriting and social media posts, storyboarding video ideas and creating the presentation.
Bringing the best of the ideas from the previous day together in this way, the groups were able to explain their concepts to the client, with visuals to back them up.
What was the result?
Spitalfields Music fed back to say that the young people had hit the right note with their social media ideas and plans. One young woman from the programme successfully interviewed for an apprenticeship with the organisation and is already working on implementing the campaign. 
Suggestions for artist takeovers, email newsletters, Twitter polls and engaging hashtags are all on the cards. The client particularly liked the two video ideas the groups devised to give audiences a sense of the intimate feeling of hearing a concert inside someone's home and to show how Hugenot townhouses in Spitalfields were being transformed to welcome visitors through timelapse video.
Find out more about the event on the Spitalfields Music website and keep an eye on their Twitter and Facebook to see some of these ideas in action.