Ear to the Waves - creative workshops to connect people and nature
Ear to the Waves - creative workshops to connect people and nature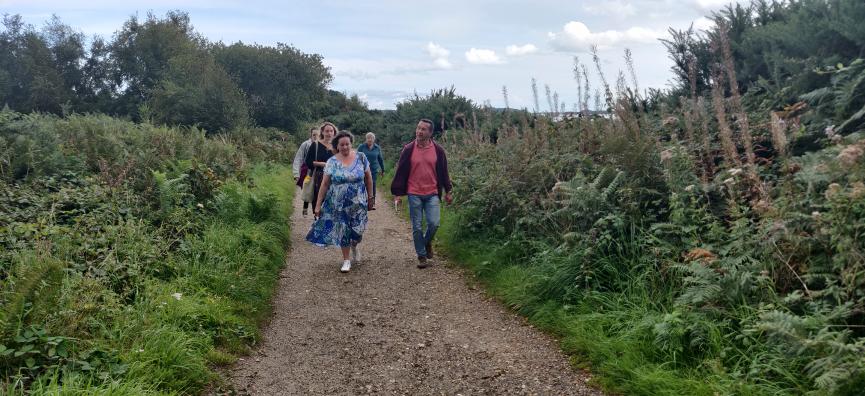 What happens if you take time to stop and listen – really listen – to nature near you? That's what I asked people living near Poole, Dorset to do in two pilot Ear to the Waves workshops supported by Artful Scribe and Southampton Univerisity. Adults and young people 11 years and upwards were invited to join me to explore the Hamworthy coastline and respond creatively in written or spoken word.
The workshops were part of the Creative Writers Against Coastal waste project and as creative facilitators, we were encouraged to develop workshops that would engage people with the coastal environment and inspire them to take greater care of it. Rather than focusing on the problem of waste, my workshops focused on creative responses to nature.
Nature connectedness and serious noticing
I was interested in Professor Miles Richardson's work on nature connectedness and the idea that developing a real sense of connection was far more powerful than simply having access to nature and spending time in it. My approach aligned with his five pathways to nature connection, especially the first: exploring and experiencing a connection to nature with all the senses.
"The ability to attend lies within all humans and is critical in calibrating value, damage and loss" - Sarah Westcott, poet.
As such, the workshops involved some instructions on 'serious noticing', a walk in the Ham Common nature reserve or Hamworthy park, time to write outside and time to polish the work and discuss the experience at the end.
Accessibility
"You don't need to think of yourself as a writer," I emphasised in the publicity for the events. "Whether you hated writing at school or you regularly reach for pen and paper, we'll make it easy for you to take part and come away with something you've created."
Together with one of Artful Scribe's young writers with lived experience of autism, we planned the sessions to be accessible in a range of ways, printing in large print for people with sight impairment, planning wheelchair friendly routes and venues and providing clear information that would help people know what to expect and what would be asked of them.
Creativity, noticing and its impact
We encouraged people to explore whatever form of writing appealed to them and were delighted when people wrote poems, fantasy fiction, short prose and even a letter to the council.
What I wanted to test, in my own small way, was how workshop participants themselves perceived the affect the workshop had on their behaviour when it came to taking care of our coastline. The evaluation asked: How likely are you to make an effort to look after your coast after doingthis workshop? 
We had 12 participants in total, ranging in age from 11 to 69. The vast majority indicated that they were 'more likely than before' to do so, with just one estimating the likelihood as 'the same as before'.
The following quotes highlight the depth of the impact the workshops had in terms of nature connectedness.
"I was inspired in a way I don't normally look to be inspired. It's another way of doing it, using nature, which I don't normally tap into. Because I grew up in the city, in Hong Kong, it's all man-made. By walking and observing nature close up and with attention I realise again how vital and everpresent nature is and that my human world is artificial,superimposed and impermanent." - workshop participant, Ham Common walk
"It brought my childhood back. Even though it wasn't here, it was on the coast. It's nice to be reminded how alive it makes you feel while you're out there. Sitting at home in front of the telly is kind of pointless." - workshop participant, Ham Common walk
"We go down there almost every day but actually taking time to stop and listen and smell makes you see it in a new light. To see the sea gulls pecking at the seaweed when the tide is out. It makes you realise what a special place it is and how it needs to be preserved." - workshop participant, Hamworthy Park walk
"I was inspired to get more descriptive with my writing and to think from an environmental point of view. We have to change and it's not fast enough." - workshop participant, Hamworthy Park walk
Thanks to Artful Scribe and Southampton University, Antosh Wojcik, Eve Wright and Wendy Imashev for their support on this project.
Resources
I'm pleased to share the materials so other writers/creative practitioners can run similar workshops. Please let me know if you'd like to use them and I can send you Word versions to adapt. See the workshop materials.
Read more on serious noticing in this 2017 article from James Wood.
Find out more about the project on the Artful Scribe project blog.